Yay!! Tonight is the first 'Are They Kawaii?' debate of 2017!
Now normally we would focus our attention on 'cartoon' characters - that is, either made with line drawing, or CGI animation. However, I would like to expand beyond this and start including live action characters and real humans in this weekly post as well.
So for our first real human 'Are They Kawaii?' post, we'll be discussing eccentric American singer,
Melanie Martinez
. I fell in love with her videos about a year ago (give or take) when I saw her unique rendition of 'Pity Party'... which led me to also enjoy the songs/videos for
'Dollhouse'
and 'Crybaby'.
This young lady has a style uniquely her own - often sporting 2-toned hair (which is spot-on perfect!) and some sort of bows, polka dots, frills & lace, doll-like lashes and doll-related accessories. I've never seen anyone quite like her. She seems 'familiar' yet 'exotic'. It draws a lot of people in. Though her heritage seems to be Latin-American (she was born in Queens, New York in 1995), she has a talent for sporting the 'Harajuku' style flawlessly. Katy Perry and Gwen Stefani would be proud.
Warning to the younger readers of this blog: Melanie does have an angry dark side and it's not uncommon to see disturbing depictions of violence and swearing in the videos. If you're under 14, I just feel it fair to warn you and your parents before viewing.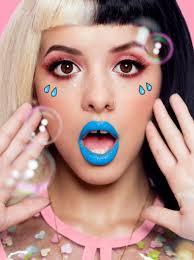 And if you're just starting to love her now and wondering where she's been all your life... Melanie started out on The Voice as a contestant and ended up with Adam Levine as a coach. For some unbeknownst reason this amazing talent got eliminated (which is good in a way)
because it made her branch out independently
(Taurus girls are fierce and stubborn so it worked well).
She's wanted to be a singer from a very young age, inspired by popular 90s musicians, and even taught herself how to play guitar in high school. Her unique genre of 'creepy cute' has been described by Rolling Stone magazine as: "twisted lullabies about love, danger and madness."
In addition,
Melanie has a cosmetics company contract (with
Lime Crime
) with 2 exclusive lipstick colors - Blue for 'Crybaby' and brown for 'Teddy Bear'. Her own label is now selling a milk bottle shaped (not for consumption) perfume called
'Cry Baby Perfume Milk'
. It is still mostly under wraps.
So my January 2 #Kawaii365 project is based on this beautiful and strange creature:
FYI: While I was drawing this (digitally), I was listening to Melanie's latest music for inspiration.
Thank you, domo arigatou everyone! xoxox