No it's not about football, which is what most of the North American world is talking about right now - from Lady Gaga's mind-blowing performance to the surprise win by the Patriots! Way to go guys!
Now I'm getting back into a 'cute' state of mind.
Still reeling from the nice weekend with Rob
. To celebrate his 20-year work anniversary, we went away for the weekend together, just as a couple, to honor his being a hard worker. And yes, even while we were away, I was still thinking of you sweet friends, the readers here. So I made some daily kawaii pals to share with you:
Rob surprised me with a box of Reese's Mini Peanut Butter Cups (smiling)
Excited coffee - was it the caffeine or the "Caution Hot"?
Used my eye liner and some 'blush' for today's cute 'tattoo'
So now I'd like to do February 6's Are They Kawaii? post for you!
Tonight's 'cuties in question' are none other than...
(drumroll please)...
Created by Illumination Entertainment, shaped like pills and colored yellow...
The Minions!!
Yes, they are beloved around the world by kids and adults alike! Many a facebook meme feature their cute goggled faces - but are they actually considered 'kawaii'?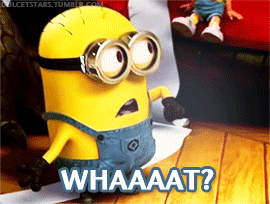 Well, good question. The principles of Kawaii state that the more simple the features, the better. Usually 'kawaii eyes' are simple, friendly dots. And the Minions' eyes are quite detailed (some even only have one big eye).
Hmmm, okay. There's still hope. Kawaii art must be smooth, rounded and void of sharp corners. These little banana-lovers have all that.
'Kawaii' can also refer to characters that are innocent and child-like. That would be an excellent description of these yellow fellows.
So, what do you think? Let us know in the comments below!
And let's not forget the upcoming #KaraokeChallenge! The sooner we have survey-doers choose a song, the sooner we'll have a cute & funny karaoke video for you to watch! I am even planning on wearing a costume appropriate to whatever song you choose for me from the list below:
After I've shared my video with you, it will be your turn to let me pick a song for you! That's right - then I'll help you share your video on this blog. Who knows? Maybe you'll get 'discovered' :)
And before I go for the evening, I'd like to share a special #Kawaii365 project.
Rob bought me some really cute & funny socks a few years back - they are based on the Soft Kitty notion created on The Big Bang Theory. If you don't watch TBBT, this grey striped cat (who looks kind of like Pusheen) is the epitome of Sheldon's favorite childhood song.
So as a recent (at the time) fan of the nerdy comedy, I expressed excitement over her cuteness and Rob bought these at HMV (which is now closing so shop soon!).
I wore these socks quite often, not just because of cuteness, but also for convenience of having warm shins & calves. Then the inevitable happened - these irreplaceable socks got very worn. I couldn't bring myself to throw them away. So while sadly staring at them near the trash can. an idea popped into my creative brain - I could remove the worn bottoms and upcycle the rest (the cute tops) so that's what I did. And that's why today's #Kawaii365 project is these 'fingerless gloves'...
I sewed them between thumb and index finger so they sit on like gloves
Thank you everyone for being so supportive! Love you all xoxo